Upcoming & Ongoing Activities
The Winston Heights-Mountview Community Association holds several ongoing activities.
__________________________________________________________________________________________________
___________________________________________________________________________________________________
Book Club
This easygoing group meets on the 3rd Tuesday of each month from 7-9 pm at the Winston Heights-Mountview Community Centre Board Room. Bring a beverage of choice to enjoy with snacks provided by that month's moderator. Escape your day-to-day with a great book and some lively banter!  To join our group or for information on upcoming books, please e-mail Kendra at bookclub@winstonheights.ca.
Do you have a book you'd like to suggest? Come out to book club and bring along your suggestions. We may decide as a group to read them in an upcoming month!
FEBRUARY
February 21 – The Sympathizer by Viet Thahn Nguyen
---
Crib Club!
Do you enjoy a little friendly competition?  Enjoy having a little social time as well?
It cost $1.00 to play and all that goes back in prizes.
Come join us every Monday from 1pm–3pm in the North Hall for a little social fun!
Any questions please email Jeanette: kjdecor@telusplanet.net or call her: 403 250 2863
---
Mom's Night Out
All Winston Heights-Mountview moms are invited to come join an awesome group of neighbourhood moms for a monthly evening at a local restaurant. Join us for a bite, a glass of wine, cup of tea or just enjoy the great conversation! The group has also organized other activities such as a weekly walking group and team participation in local running races.
To sign up for the Mom's Night Out (MNO) notices that include details of this month's event(s), please use the eNewsletter sign up at the side of the page and select 'Mom's Night Out'. For more information, please contact Christine at president@winstonheights.ca
We will be meeting on June 15 @ 7:30pm – Nixx Neighbourhood Pub, 2418 Edmonton Trail N.
---
Playgroup!
I would like to thank all the moms, dads, grandparents and caregivers who make our playgroup a cozy entertaining and fun place to be with our little ones!  We recently grew the toy collection at the community centre to make the children's experience that much more exciting.  Please come and check it out every Monday morning from 10:00 a.m. – 11:30 a.m.
We would also like to inform you that we plan on doing a regular 'deep cleaning' on the toys.  We would really appreciate any of you who join us regularly to lend a helping hand.  The cleanings will occur partially during the playgroup hours and on the second Monday of each month.
We thank you in advance for supporting the playgroup and our fabulous community!
If you have any questions, or would like more information, please contact Sarah at playgroup@winstonheights.ca.
---
POTLUCK!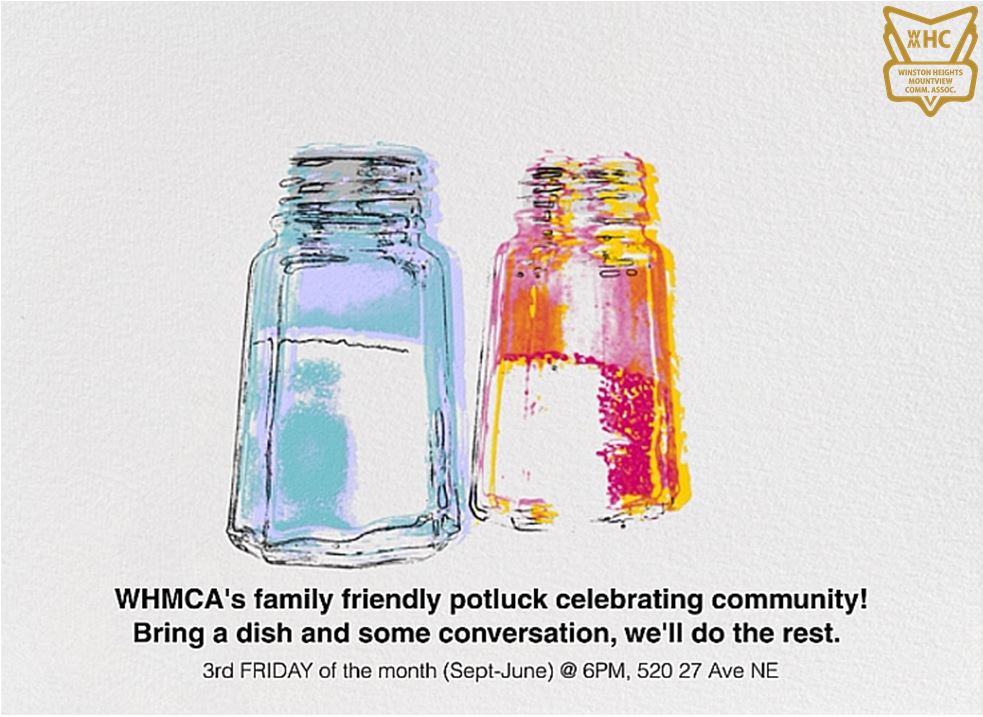 The third Friday of every month at 6pm, the WHMCA hosts a family-friendly pot luck dinner. All community residents are welcome to attend. Bring a dish to share and anything special you might like to drink (coffee, tea, juice and water are provided) and come on out to meet your neighbours for some great food and ever better company and conversation. There are toys and activities for children and it's a great opportunity to meet new neighbours and friends. If you've not yet made it out to the potluck but would like to attend, please come by.
If you want more information, please contact Darla at potluck@winstonheights.ca. To sign up for the Potluck notices that include details of this month's event(s), please use the eNewsletter sign up at the side of the page and select 'Potluck'.
JUNE
Friday, June 16

---